Electric fireplace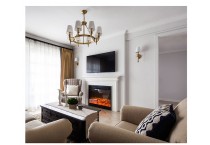 The main function of electric fireplace is decoration and heating, there are some other functions including Vacation mode, constant temperature function, color taking photo, timing function, and remote control (through APP, tablet and RADIO frequency) with touch panel or buttons on the fireplace frame.And some decorative accessories are also equipped like realistic log, cobblestone in matte or smooth, pine cones, crystal and etc., you can also choose by your preferences, while we also accepted bespoke electric fireplace, to provide you the electric fireplace that only belongs to yourself.
A detailed description of the two functions:
一.TimingFunction :
 1. Timing function: the weekly timing mode is from Monday to Friday, which can be automatically turned on and off for 5 periods .Holiday timing mode: can be timed holiday open and closed time.
2. Open temperature and close temperature can be set in the constant temperature mode, and automatically open and close when the room temperature reaches the set temperature. 
3. Colorful change function: color selection can be done by mobile phone, color selection can be done on UI interface, 7 color automatic change mode can be set, and color changes can be made according to the volume of external speech or music.
 4. Can simulate 8 kinds of flame sounds.
5.High and low temperature selection.
 6.All controls are completed through the mobile APP.
二.Control mode:
1.sound control (optional)
2.Remote control
3.Touch panel control
4.Phone app control (optional)
Other additional function:
1.the flame color and height will automatically change by outer sound.If the outer sound volume is high,the flame color will turn bright and the flame height will turn high,vice versa.
2.Choose flame color by your phone camera.what color you shoot,the flame will present the color you shoot.
Other additional function can be customized by your request.
---
---